Monday, October 14, 2013
TMZ.com
:
Michael Jackson's family is suffering its second crushing blow this month -- Conrad Murray is about to be a free man ... and Jermaine Jackson says it's almost too much for them to handle.

Jermaine downplayed his mother, Katherine Jackson's loss to AEG in the wrongful death trial, telling us ... "It's not about the money. This guy is walking this month. He's walking free this month!"

Murray is scheduled to be released from jail on October 28, completing his sentence for the involuntary manslaughter of MJ. Murray actually got 4-years, but that was reduced to 2, due to jail overcrowding.

Watch the clip ... Jermaine unloads on our camera guy about what he views as Murray's way-too-brief time behind bars -- adding his family is still hurting.
Friday, October 11, 2013
StandardMedia.com
:
Singer Tina Turner is a married woman after quietly exchanging vows with her long-term partner in Switzerland, according to local reports.

The 73-year-old R&B-rock icon, who became a Swiss citizen in April, wed German record executive Erwin Bach, 57, in a discreet civil ceremony on the banks of Lake Zurich in Kusnacht "a few days ago," municipal official Hannes Friess said.

The newlyweds will celebrate the union in a Buddhist ceremony at their estate in Kusnacht on Sunday, and reports suggest 120 guests will attend the festivities.

Before her relationship with Bach began in the mid-1980s, Turner was married to her musical partner Ike Turner for 14 years. The pair divorced in 1978, and Ike Turner's alleged abuse of his wife was chronicled in the singer's 1993 biopic, What's Love Got to Do with It.

News of Turner's wedding plans spread in early April amid reports suggesting she and Bach had become engaged, but a representative for the singer refused to comment.
Singersroom.com
:
Usher shows off what he's working with in the latest issue of Men's Health Magazine. The multi-Grammy winning R&B crooner, who is getting extra fit for his upcoming role as boxing legend Sugar Ray Leonard in the film "Hands Of Stone," talks about being committed to his character and his

workout

pains.

"I train like an athlete everyday, believe it or not," a ripped Usher says in the November 2013 issue of Men's Health.

"My commitment to this character demands that I not only physically get ready, but also become him," he adds about the legendary boxer. "The hair, the personality, the manner he conducts himself in - all that. He's an incredible man."

While things may look sweet on the cover, the 34-year-old admits that getting extra fit has it's drawbacks.
"My second day I decided to ride to the gym. So I rode there. Boxed. Rode the

bike

back home.

Mentally, I'm the type of person who can ignore the pain. Put it somewhere else and allow my body to just go there. But I always suffer."

He continues: "You can't box, ride a bike for 20 miles in the heat—Georgia heat—and then go to the studio and rehearse. That's not happening."

Grammy award nominee Glenn Lewis is preparing to release his forthcoming album Moment of Truth (RuffHouse Records/Capitol) on October 15th.
Thursday, October 10, 2013
TheDrop.FM.com
:
Last week, August Alsina released another remix to his breakthrough hit 'I Luv This S—' — this time featuring Chris Brown and Trey Songz. Maybe feeling a little left out, R&B crooner Jeremih just dropped his own version of the sexualized anthem.


While Breezy and Trigga Trey are over the top with their sexually explicit verses, 'Mih keeps it sort of clean but mack-ish as he sings about hooking up with a fly chick.

"I came here to one-night it / All of these girls are invited / hood slang / I got 2 chains / Watch all of these h-'s start a riot," he sings.

After the 26-year-old singer released his reworked single, he tweeted, "Man these n—-s don't really wanna see me."

We guess Jeremih feels some type of way.

Meanwhile, Alsina has notched his first No. 1 hit on the Billboard Mainstream R&B/Hip-Hop chart with 'I Luv This S—,' knocking Drake from the top spot with 'Hold On We're Going Home.'

The Knucklehead-produced song has become a summertime hit for the New Orleans native and has spawned several remixes, including one featuring Birdman.
Wednesday, October 9, 2013

New EP LessonsinLove dropping soon.
TheGuardian.com
:
When Brown was two, he began copying Michael Jackson's dance moves, and was soon singing in his church choir and competing in local talent shows. His parents divorced when he was seven, and before long he and his sister and mother were living with her new husband in a trailer park, where in the past he has described lying in bed listening to his stepfather beat his mother.

I ask him to tell me a bit about his childhood. What's his earliest memory? "I remember my kindergarten teacher made me count pennies and see how much did it add up to, and then I just remember her telling my mom, 'He's a smart kid.' When I was three, I remember being at a daycare centre and having to stay in a room with a bunch of little kids my age, but I just felt like, OK, I know what I'm doing, I know how to unlock the gate, I know how to get out. My mom told me as a youngster I was always intellectual, like as far as being able to adapt fast and quick. But I had a fun childhood, went to regular school."

He lost his virginity when he was eight years old, to a local girl who was 14 or 15. Seriously? "Yeah, really. Uh-huh." He grins and chuckles. "It's different in the country." Brown grew up with a great gang of boy cousins, and they watched so much porn that he was raring to go. "By that point, we were already kind of like hot to trot, you know what I'm saying? Like, girls, we weren't afraid to talk to them; I wasn't afraid. So, at eight, being able to do it, it kind of preps you for the long run, so you can be a beast at it. You can be the best at it." (Now 24, he doesn't want to say how many women he's slept with: "But you know how Prince had a lot of girls back in the day? Prince was, like, the guy. I'm just that, today. But most women won't have any complaints if they've been with me. They can't really complain. It's all good.")

By 12, he knew he wanted to be a singer. "I drew a lot of inspiration from the Ginuwines, the Ushers, the Michael Jacksons, the James Browns, Sam Cooke. I was never afraid to take those steps or cross those boundaries of trying to be equal to those guys. I never doubted myself, and I thought if I'm going to do it, I've just got to work hard."

And he did work hard, phenomenally so. Discovered by a record producer at 13, he was signed to Jive Records by 15 and a year later released his eponymous debut album, a smooth slice of commercial R&B that went double platinum and produced four top 10 singles. Brown spent the best part of the following two years on a tour bus conducting a relentless "meet and greet" campaign of promotional appearances in schools and shopping malls across the country. He launched his acting career, and two years later his second album, Exclusive, went double platinum, too. Brown has a perfectly competent voice, easy on the ear and agile enough to straddle R&B, dance and pop. He writes or co-writes a lot of his songs, can claim a string of acting credits and has a prodigious work ethic. But it's the way he dances that marks him out, justifying any comparison to Michael Jackson: he is an effortlessly fluid and inventive performer.

By February 2009, still just 19, Brown was the crown prince of American R&B, with a pop princess girlfriend, Rihanna, on his arm. When both failed to show at the Grammy awards ceremony, rumours spread that the couple had rowed, but the news that he'd attacked her and been arrested sent the country into a degree of shock that's hard to fathom without understanding the full cultural significance of both stars to many Americans. Brown was issued with a restraining order and sentenced to six months of community labour and five years on probation.

Former child stars often famously self-destruct in adulthood, so I ask if he thinks of himself in this category. "I guess people could say that. But the only thing that's probably changed for me is just the facial hair a little bit. When I first came out, it was more of a young, warm, clean look. Very clean, very Disney."

Does he ever wish, I try again, he'd had a chance to grow up in private? Does he regret fame coming so early?

"Honestly, where I'm from, probably not. I think me being able to travel from the small town I was from, me already having a good IQ, and you know being intelligent, and regular stuff, I just had to learn more and more of the street life, you know, how to manoeuvre around a room full of wolves."

Wolves?

He offers a slightly sour, dismissive shrug. "You know, whether it be naysayers, people that won't say, 'Hey, I like that.' But as far as me being young, like, I don't regret it, I love it, being able to accomplish my dreams at an early age. That's just showing the kids that's coming up in sixth or seventh grade, I can do this. If I really stick to it, I can do it. 'Chris was my age when he did it.'"

The advice he'd give his 14-year-old self now is "pay attention to details, details, details. I'm 24 now, so I'm making sure I'm on top of it, but back then I was just, like, whatever we're doing, I'm just glad to be here, you know?"
Tuesday, October 8, 2013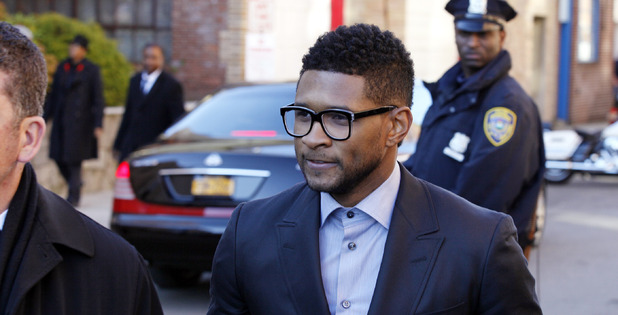 TMZ.com
:
Usher's ex-wife, Tameka, wants a judge to punish him for being a lousy dad who does whatever the hell he pleases with their kids and makes her life a living hell ... this according to court documents she's filed in Georgia.

The problem ... she says ... back in July, Usher stormed out of a co-parenting class they were ordered to attend ... and he hasn't been back since. She says she's begged him to return -- but so far, he's just ignored her.

Usher has primary custody of their two sons ... but she says he's supposed to make important family decisions with her -- especially decisions about schooling, travel and activities.

Tameka says ... he's shut her out. She never knows where he takes the boys or what he's doing with them. She's especially pissed that he signed up one of the boys for football practice -- without her approval.

She wants a judge to hold Usher in contempt and order him to be a better co-parent.

We tried reaching Usher, but no luck.
Sunday, October 6, 2013
Wetpaint.com
:
Mary J. Blige may be a vocal anti-drama advocate in her songs, but it seems the queen of hip hop soul isn't ready to take her own words of wisdom to heart.



TMZ

reports that Mary is getting ready to duke it out in court (or at least her lawyer's office) with concert promoter Vision Entertainment Worldwide for their horrible crime of giving her a bunch of money in exchange for nothing.

Last December, Vision sued Mary for being a no-show at their Dallas concert, for which they had already paid her a whopping $145,000 advance. Mary's reason for ditching the good people of the Lone Star state? She allegedly got offered a better gig with the Rolling Stones at Brooklyn's Barclays Center and jumped at the opportunity.

Unfortunately for Vision, Mary decided that she was entitled to keep her advance, despite putting in zero work, so the company decided to try to get their chunk of change back, claiming Mary breached her contract by not showing up.

Now Mary is countersuing Vision, claiming that they breached the contract first by treating her like some commoner and failing to provide first-class airfare for her entourage. In fact, she's claiming that, for all the hardship flying coach cost her, she should be paid the rest of her appearance fee — a generous $105,000.
Saturday, October 5, 2013
TheWrap.com
:
Complaint claims that song "Different Strokes" was improperly sampled by dozens of artists Usher, Mark Wahlberg and Run-D.M.C. are among a slew of musicians who are being sued in a sprawling lawsuit claiming that dozens of artists infringed on a song by sampling it without authorization.


In the suit, filed in U.S. District Court in Illinois on Tuesday, Twilight Records and Syl-Zel Music claim that the above defendants and others sampled "Different Strokes," which was sung and recorded by Sylvester Thompson, a/k/a Syl Johnson, in 1967, and later in a derivative version.

According to the suit, Usher infringed on "Different Strokes" with his 1993 song "Call Me a Mack," while Public Enemy made use of the tune on multiple songs, including "Fight the Power" and "Fear of a Black Planet."


3rd official single from her Top 10 album Woman to Woman.

Interesting that John Legend's wife Chrissy Teigen has her name featured in the title of his new video for "All Of Me"?
TMZ.com
:
Lesson 1: NEVER return to the scene of the crime. Cops think that's exactly what a rather dumb dude did this morning at Rihanna's house ... a dumb dude who is now under arrest.

The guy was trying to scale the singer's wall at her Pacific Palisades home at around 11 am. Rihanna's security called 911 and cops came out and arrested the trespasser ... they found him about a mile from her home.

Now here's the dumb part. Someone trespassed on Rihanna's property on Sunday and threw a chair through her window. Cops are investigating the attempted burglary, and our law enforcement sources say they've reviewed the security footage and the would-be burglar looks VERY MUCH like the guy who was arrested today.

Rihanna was not home during today's incident.

2:12 PM PT: We've learned cops now say the trespasser and the attempted burglar are one in the same so they've just booked him on the burglary charge. Law enforcement sources tell us he's a 27-year-old man who believes he and Rihanna are friends.